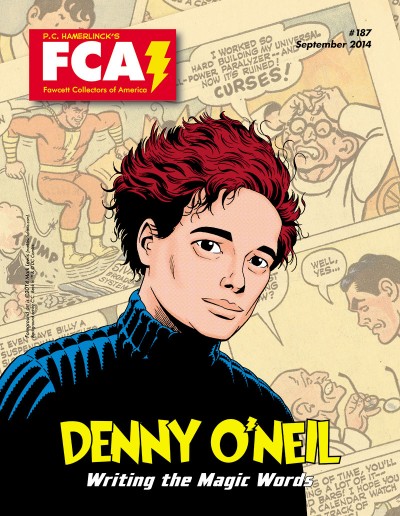 Here's a pre­view of another cover I did for FCA, appear­ing in the pages of Roy Thomas' Alter Ego mag­a­zine. Though the cover date is Sep­tem­ber of this year, I believe the mag­a­zine will actu­ally be avail­able in August.
For those who don't know, DC Comics brought back the orig­i­nal Cap­tain Mar­vel in the early '70s. The Big Red Cheese had been miss­ing from the spin­ner racks for sev­eral years by that point, so his reap­pear­ance was greatly looked for­ward to by a num­ber of fans. Includ­ing some younger fans like myself, who had seen very lit­tle of the char­ac­ter pre­vi­ously, but knew that they really liked what they saw.
Denny O'Neil was one of the writ­ers tapped by Edi­tor Julius Schwartz to write this revival. In fact, Mr. O'Neil wrote the story in Shazam! #1 which brought the Mar­vel Fam­ily and com­pany back into the mod­ern age. FCA #187 fea­tures an inter­view with O'Neil about his work on the title.
Using what ref­er­ence I could find online, at Edi­tor P.C. Hamerlinck's request, this was an attempt at a por­trait of Mr. O'Neil as he might have looked around the time he was writ­ing the comic. The back­ground art (I has­ten to add) is not mine! It's scans of actual pan­els from some of the Cap­tain Mar­vel sto­ries Mr. O'Neil wrote, drawn by C.C. Beck him­self. Scanned straight from my own per­sonal copies of those comics, of course.