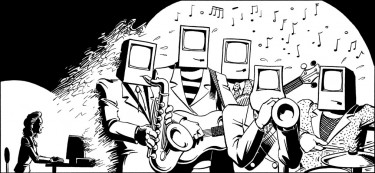 And here's yet another PC News cover flashback.
Once again, I'm not really sure what's going on here. Too much water under the bridge since then. There's a tickle of a thought in the back of my mind that this might be relative to some program called "Jazz," though I'm not sure.
Whatever it is, I kind of liked how the illustration came out for its own sake. Jazz musicians with old school Macintoshes for heads? Works for me!
I think there'll be one more of these cover posts to come.