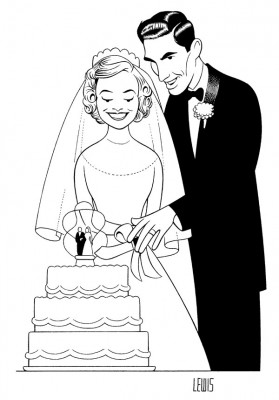 This is not exactly something brand new, but done a few years back for the invites to my Mom and Dad's 50th Anniversary celebration. I thought maybe a few more people than just those who saw it back then might enjoy it.
I don't normally do a lot of caricature. So I figured as long as I was going to attempt it, I might take my cues from one of the best: Al Hirschfeld. It was definitely a challenge to work this way, but I was happy with the result. Oh; don't strain your eyes looking for "Ninas," because there aren't any!
Not much more to say about this right now, except; Mom, Dad, I love you very much.