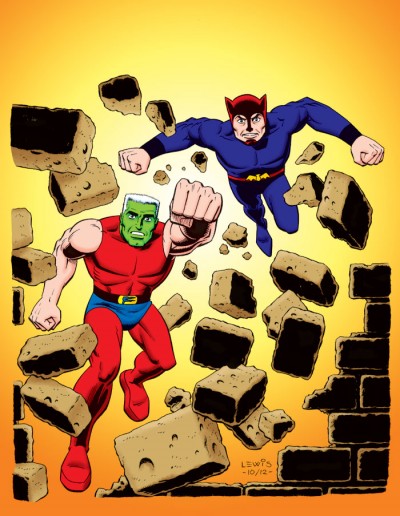 What? These weren't the guys you were expecting? 🙂
Apparently back in the mid/late-'60s, someone at Dell Comics thought it would be a good idea to take some of the classic monsters and re-imagine them as superheroes. There had been a sort of resurgence of interest in the old Universal Monsters, due to their exposure to a new generation on TV. You couple that with a burst of interest around that time in superheroes from a pop/camp perspective (thanks to the Batman TV show), and you can see the reasoning.
I've never actually come across one of these books to be able check them out for myself. My awareness of them is very limited, gleaned only from their occasional mentions in places like Roy Thomas' Alter Ego magazine, or on various blogs or comics sites.
Then why am I drawing these characters? I guess there's a fun sense of wonkiness to the whole thing that kind of appeals to me. Sort of like watching Plan 9 from Outer Space. I thought it would be a kick to just take a crack at these guys and see what it might wind up looking like.
Happy Halloween!