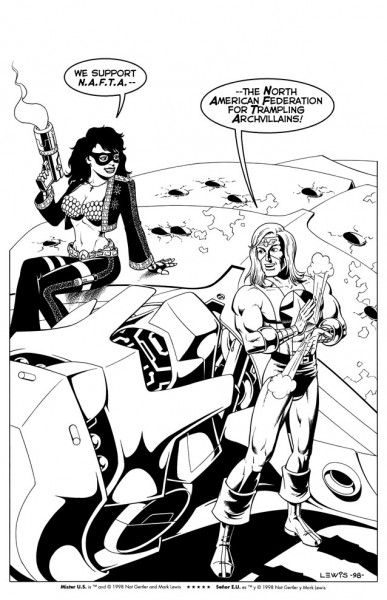 I was­n't sure if I would get to it or not, but it appears I was suc­cess­ful in putting up my gal­leries. Though there are still a few minor bugs to iron out around here, things are func­tion­al. You can access them via the "Gal­leries" link up top.
And just so I'm not only giv­ing you bor­ing text to read, by pop­u­lar request (do three requests by one per­son count?), I'm post­ing an old pin-up I drew fea­tur­ing Chesty Sanchez and Mis­ter U.S.
I had a lot of fun with this! It start­ed with a gag idea sug­gest­ed by writer Nat Gertler, whom Chesty Sanchez cre­ator Steve Ross had ini­tial­ly con­tact­ed to request a pin-up. For some rea­son, though I knew the book was only going to be print­ed in black and white, I always want­ed to see this in col­or. Maybe one day I'll do it, just for fun. This appeared in the 96 page "Chesty Sanchez Super Spe­cial" some years back, pub­lished by Antarc­tic Press.
Look­ing back over the com­ic, a Chesty Sanchez movie could be a lot of fun. The time is right, with all the oth­er com­ic book movies out there. Steve? you should get right on that and make it happen! 😉
Chesty Sanchez is ™ and © Steve Ross, Mis­ter U.S. is ™ and © Nat Gertler and Mark Lewis.