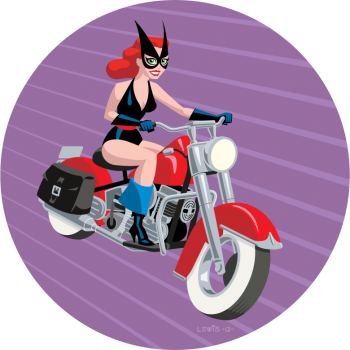 This time out, for no spe­cial rea­son, here is the orig­i­nal Black Cat. I've kind of had a soft spot for Har­vey Comics' ver­sion of the Black Cat from the gold­en age for a while now.
If you're not famil­iar with the char­ac­ter, behind the Black Cat's mask in the comics was actress Lin­da Turn­er. She'd start­ed out her career orig­i­nal­ly as a stunt­woman, but had suc­cess­ful­ly tran­si­tioned into becom­ing a lead actress. The var­i­ous skills she'd picked up dur­ing her stunt­woman career enabled her to fight crimes and solve mys­ter­ies incog­ni­to as the Black Cat. The '40s Hol­ly­wood milieu gave her sto­ries a lit­tle dif­fer­ent feel from oth­er, more typ­i­cal­ly NYC-fla­vored super­hero comics.
Sev­er­al artists drew her sto­ries, but the artist most asso­ci­at­ed with the char­ac­ter would have to be Lee Elias. Elias was clear­ly a Can­iff dis­ci­ple, and he did that style very well. He gave his hero­ine (and the strip in gen­er­al) a real charm and appeal.
Obvi­ous­ly I did­n't both­er try­ing to mim­ic Elias' work here. For some rea­son, I envi­sioned this from the begin­ning as using a vec­tor-based Adobe Illus­tra­tor approach. Yet anoth­er exper­i­ment. The beau­ty of this being my site, I can exper­i­ment with all kinds of approaches.
If you're curi­ous to see some Black Cat comics for your­self, I'm not sure where you could buy them now (with­out pay­ing the usu­al prices for gold­en age comics). I picked up a set of reprints some years back now via Bud Plant (and thanks once again to my bud­dy Eric Wight for alert­ing me to those back then!). Unfor­tu­nate­ly though, I don't think those are in stock any­more. But, the good news is, you can view just about every issue of Black Cat online, cour­tesy of The Dig­i­tal Com­ic Muse­um (What a great resource!).
And that's a wrap for this one!