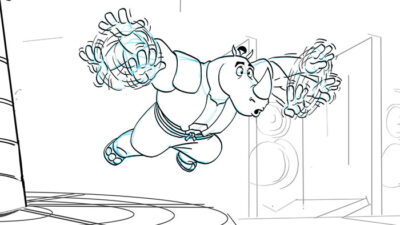 Sea­son 2 of Samu­rai Rab­bit: The Usa­gi Chron­i­cles is now live on Net­flix, which means I can now post some of the sto­ry­board revi­sion work I did for it!
You can read about the ori­gin of the show (based off Stan Sakai's long-run­ning Usa­gi Yojim­bo com­ic), and how I got the sto­ry­board revi­sion job on the series in my ini­tial post here. I had a real blast work­ing on this show, han­dling the even-num­bered episodes (Go Team Even!). Alfred Gimeno (my direc­tor) and I prob­a­bly drove our poor Pro­duc­tion Man­ag­er Elaine Figueroa nuts with some of our silli­ness in the online chat win­dows while work­ing, but she put up with it.
I've men­tioned before that my board revi­sion work often has a tell, which is the non-pho­to blue under­draw­ing you can some­times spot. In addi­tion to what you see here, there's more over in the Sto­ry­board Revi­sion fold­er on the Gal­leries side of my site. From image #38 on is the mate­r­i­al from the sec­ond season.
Hope­ful­ly the view­ers enjoy this sea­son as much as (or even more than!) the first sea­son. Much love and respect to my Team Even team­mates, and the whole Samu­rai Rab­bit crew!