Most vis­i­tors here know that my first job in ani­ma­tion was on X‑Men: the Ani­mat­ed Series. I've not exact­ly kept that a secret. I learned a lot on that show, not only from my boss Lar­ry Hous­ton, but also from my co-work­ers. When I start­ed, I knew only the basics about how ani­ma­tion was done. I knew more about comics. But that kind of knowl­edge was def­i­nite­ly help­ful on this show.
Some­thing else I've learned, as time has passed, is that there are a lot of peo­ple who real­ly loved the show. A lot. When you have co-work­ers who dis­cov­er you worked on it tell you, "Oh, I loved that show! it was my favorite as a kid!", there are mixed feel­ings. But seri­ous­ly, it's good to find out that you've con­tributed to some­thing that peo­ple have loved that much.
And, to my sur­prise, the love is appar­ent­ly so much that X‑Men Sto­ry Edi­tors the Lewalds were con­tact­ed by Abrams Books, and asked to do a book on the art of the show! Which is now avail­able on Ama­zon.
Of course at first, they attempt­ed to see if any­one knew where the orig­i­nals were. But after all this time, who knows which box in which stor­age facil­i­ty that stuff might live in, for a stu­dio that no longer exists?
So that meant reach­ing out to all us artists who worked on the show, to see what we might still have after all these years. And per­son­al­ly, X‑Men being my first job in ani­ma­tion, and com­ic-relat­ed, I made and kept copies of pret­ty much every­thing I did for the show. So I had a lot. And so did oth­ers. With­out that, this book prob­a­bly would have had very few pictures.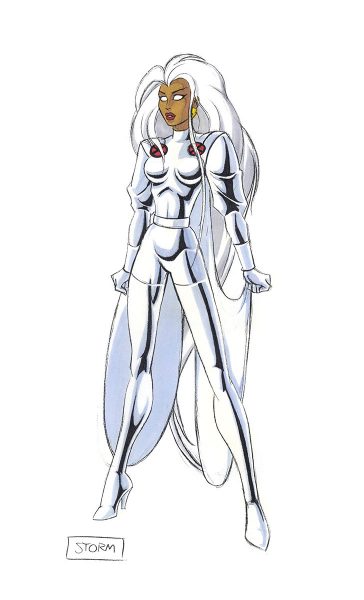 By way of cel­e­brat­ing, I thought I'd share some pieces that very few out­side the stu­dio have ever seen (I'm not sure whether these are in the book or not). Lat­er in the show's run, after Lar­ry had moved on to oth­er projects for Mar­vel, his for­mer assis­tant on the show, Frank Squil­lace, end­ed up in the Producer/Director chair. At this point, I was begin­ning to do more design on the show, not just char­ac­ter mod­el clean-up, as design­er Frank Brun­ner became more involved in oth­er projects for the studio.
My rec­ol­lec­tion of this is a bit fuzzy now, but I believe it was Frank S. who ini­tial­ly sug­gest­ed we re-design the show. The look of the show had been orig­i­nal­ly based on Jim Lee's art in the com­ic, and by this time, Lee had long since left Mar­vel to become one of Image Comics' founders. At this point in the comics, the look of X‑Men was informed by the art of Joe Madureira. Madureira's work was more ani­mé- or gam­ing-influ­enced. So not only was it the cur­rent X‑Men look, it also seemed like going this route with the show would be more animation-friendly.
With Madureira's work in mind, Frank S. and I col­lab­o­rat­ed on some re-designs of the char­ac­ters, as well as gen­er­at­ing some who had­n't appeared in the show before (at least offi­cial­ly). We felt like we were on to some­thing here. In fact, as oth­ers at the stu­dio found out about what we were try­ing to do, they were excit­ed. Will Meugniot, who had a big hand in launch­ing the show orig­i­nal­ly in the first place, told us one day that he loved the idea too. He gave us his bless­ing, and said he was ful­ly on-board with it.
Obvi­ous­ly it did it not end up hap­pen­ing, or you would have seen these. When you work in ani­ma­tion (or enter­tain­ment in gen­er­al) for any length of time, you dis­cov­er that behind the scenes, there are always things like this that would have been cool, but did­n't end up hap­pen­ing for one rea­son or anoth­er. So this is a fun "might have been."
I hope peo­ple enjoy the book, and thanks to the Lewalds for reach­ing out and invit­ing me to contribute!