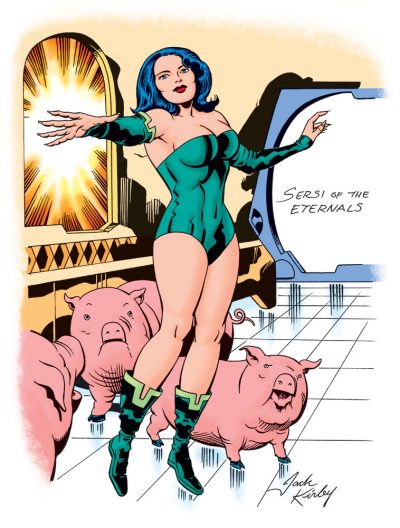 This is the fourth and final install­ment in my cel­e­bra­tion of Jack Kir­by's 100th birth­day this month. Which hap­pens to be today!
Like most of the oth­ers I've post­ed, today's draw­ing came my way years back as a pho­to­copy of Kir­by's pen­cils, from a sketch­book orig­i­nal­ly done for his wife Roz. It was lat­er repro­duced and pub­lished in book form as Jack Kir­by's Heroes and Vil­lains. Like the oth­ers I've post­ed, this was a draw­ing that looked to me like it might be fun to take a crack at ink­ing it. So I did. And recent­ly col­ored it up for post­ing here.
This char­ac­ter (Ser­si) comes from a com­ic called The Eter­nals, which was one of a hand­ful of titles Kir­by pro­duced dur­ing his last stint at Mar­vel in the mid- to late-'70s. The seeds of this com­ic seem to have come from a very pop­u­lar book around this time by Erich von Däniken, enti­tled Char­i­ots of the Gods?. The book con­jec­tured that alien astro­nauts had vis­it­ed our world in the dis­tant past, and were mis­tak­en­ly thought by us to be gods. It's easy to see how an idea like this could be fuel for Kir­by's vivid imag­i­na­tion. Add to it Kir­by's fas­ci­na­tion with myths and leg­ends, and he cooked up a very enter­tain­ing sce­nario from these ingredients.
Cer­tain sto­ries from Eter­nals still stand out in my mind. The saga of Karkas and the Reject, for exam­ple, which sub­vert­ed the usu­al assump­tions read­ers made about new char­ac­ters based on first impres­sions. Or "The Rus­sians are Com­ing!" in #11, or "The Astro­nauts!" in #13. Even in this lat­er stage of his career, Kir­by still had the goods.
If you caught onto the fact that each of my "Kir­by 100" posts has been in chrono­log­i­cal order of when the char­ac­ter first appeared, give your­self a gold star!
I men­tioned ear­li­er on that Kir­by's work is very impor­tant to me. He was one of the ear­li­est com­ic book artists whose name and style impact­ed on me, and I was com­pelled to seek out his work. He may not nec­es­sar­i­ly have invent­ed all the "visu­al gram­mar" of draw­ing super­hero comics, but he cer­tain­ly per­fect­ed it! If an artist want­ed to do super­hero comics that had impact, it would have been a mis­take not to learn from Kir­by's work.
Super­hero comics were not the only kind of mate­r­i­al he did, though. Kir­by worked in almost every genre of Amer­i­can comics, and brought the same inven­tive­ness and dynam­ic ener­gy to what­ev­er he did. He man­aged to cre­ate vital work in every decade, span­ning from the Gold­en Age of comics all the way up into the '80s.
If for some rea­son you're not famil­iar with Kir­by, do your­self a favor, and start delv­ing into the work of this tru­ly unique and impor­tant cre­ator! You are in for a treat!
Hap­py 100th, Mr. Kir­by! And a very heart­felt "thank you" for cre­at­ing so many great char­ac­ters and sto­ries that still live and inspire today. You were tru­ly one of a kind!