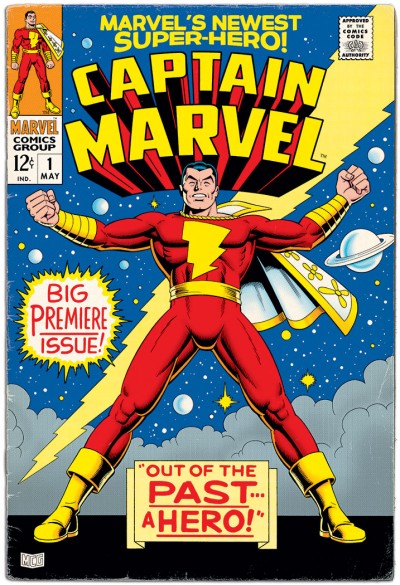 Okay, I real­ize I've done a lot of Mar­vel Fam­i­ly-cen­tric posts here late­ly. I hon­est­ly intend­ed that I was going to move away from that this time. But I could­n't help myself!
My orig­i­nal plan here was to do a straight recreation/reinterpretation of the cov­er of Cap­tain Mar­vel #1, pub­lished by Mar­vel Comics in 1968 and fea­tur­ing their alien ver­sion of Cap­tain Mar­vel (Kree, to be spe­cif­ic). It was to have been kind of a lit­tle joke, that it would be a Cap­tain Mar­vel, but not the same Cap­tain Mar­vel I usu­al­ly draw. Plus, I've always kind of liked the Kree Cap­tain Mar­vel's orig­i­nal green and white out­fit for some reason.
But then, as I was look­ing at the cov­er, I remem­bered a con­ver­sa­tion I'd had with FCA Edi­tor P.C. Hamer­linck. For those of us with an inter­est in comics his­to­ry (who did what, who pub­lished what, and when), some­times it's fun to play a game of "What If?" You take events as they hap­pened, then pro­pose a change. It's like throw­ing a stone into a stream, and see­ing what rip­ples it makes. In this case, P.C. and I once had a con­ver­sa­tion where he threw out the idea, "What if instead of DC pick­ing up the rights to Faw­cett's Cap­tain Mar­vel, it had been Mar­vel Comics that had made that call?"
That con­ver­sa­tion sud­den­ly came to mind as I looked at the orig­i­nal ver­sion of this cov­er, and real­ized that the pose of the Kree Cap­tain would­n't take much to rework it slight­ly and make it work just as well for the orig­i­nal Cap­tain Mar­vel. So I got hooked on the idea. This was the result.
Please bear with me for a lit­tle fan­boy indul­gence here: who do I think would've been the like­ly can­di­dates to do this book, if Mar­vel had bought the rights back then? Every­one's obvi­ous first thought would like­ly be Jack Kir­by. How­ev­er, at that point in time, Kir­by's con­tri­bu­tions to Mar­vel were mov­ing towards being most­ly just between the cov­ers of Fan­tas­tic Four and Thor. I believe it's more like­ly that some­one from the sec­ond wave of Mar­vel cre­ators com­ing in at that time would've been giv­en this assign­ment. Art­wise, at the moment, I'm think­ing per­haps Bill Everett might've been the best choice. He had some of that Mar­vel ener­gy going for him, yet he also still had a cer­tain "car­toony-ness" to his work that I think Cap­tain Mar­vel needs.
The writ­ing side of the equa­tion is a no-brain­er. I'm sure Roy Thomas would've argued a very strong case for his being the one to get this assign­ment. And I'm think­ing Stan Lee most like­ly would've giv­en in and hand­ed the book to him.