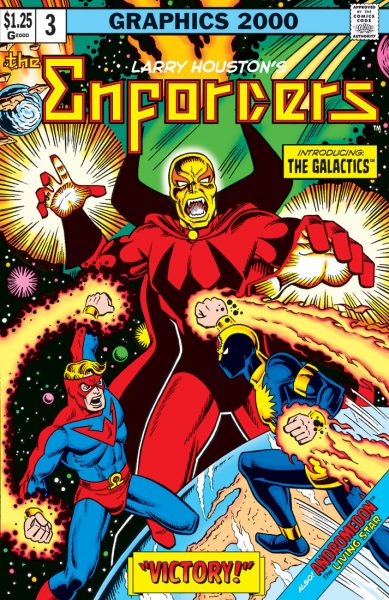 Long­time vis­i­tors to this site may remem­ber that I got my start in ani­ma­tion work­ing on X‑Men: the Ani­mat­ed Series. That meant my first boss was Lar­ry Hous­ton, who I came to con­sid­er both my men­tor in the busi­ness, and a friend. Lar­ry's now get­ting to enjoy much-deserved recog­ni­tion for his con­tri­bu­tions to X‑Men, as well as a num­ber of oth­er car­toons peo­ple think of fond­ly from their youth.
But before he got into ani­ma­tion, Lar­ry aspired to do comics. And he did! In his 20's, he self-pub­lished three issues of his own com­ic, The Enforcers, with a lit­tle help from his friends.
Those comics have been out of print for years. But not long ago, Lar­ry decid­ed to re-pub­lish them all togeth­er in one big col­lec­tion. You can pur­chase it off of Lar­ry's site, using the link above, in either dig­i­tal or phys­i­cal form. Orig­i­nal­ly his comics were in black and white (as was typ­i­cal for inde­pen­dent comics in those days), but this time it's in full color!
I ordered myself a copy, and I found it a real blast. You can feel the excite­ment on the page, that "we're doing our own comics!" Of course there are some rough edges, but you can see Lar­ry and friends learn­ing their craft and improv­ing vis­i­bly with each issue. It's cer­tain­ly bet­ter than what I was doing in my 20's! The art has a real ener­gy to it, and so does the dia­logue. There's this '70s Mar­vel/qua­si-Roy Thomas feel to it. I real­ly enjoyed the com­ic quite a bit!
So this is a bit of fan art on my part, recre­at­ing the cov­er of the col­lec­tion (which was also the cov­er to the orig­i­nal issue #3). But of course, it's not just a straight re-cre­ation. I always have to have some kind of spin on it, or re-inter­pre­ta­tion. In this case, the idea was to tweak it slight­ly in some aspects to make it look even more like a main­stream com­ic from that late '70s peri­od. Except for one or two pan­els, these sto­ries feel like they could have seen print in a Comics Code-approved book of that era.
So Lar­ry: thanks, and much respect always! Hav­ing read these sto­ries, I'd real­ly like to see you do some new comics with your char­ac­ters, using all the sto­ry­telling craft you've picked up in the inter­ven­ing years.
Lar­ry Hous­ton's The Enforcers are ™ & ©1975, 1978, 1979 and 2018 Lar­ry F. Houston.