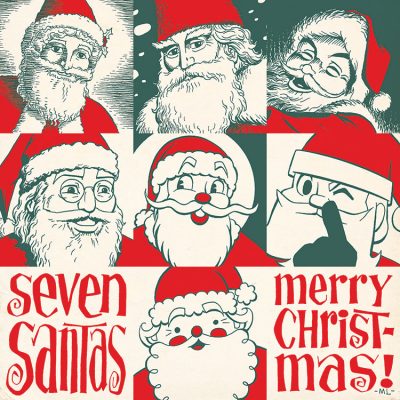 This was an idea I'd had since last year that I want­ed to try out, but did­n't quite get around to mak­ing it a real­i­ty. Too much else was going on. I've exper­i­ment­ed with this for­mat before, and liked how it was capa­ble of show­ing sev­er­al styles in one piece. I guess this end­ed up as kind of the same for­mat grid as those Art Vs. Artist images, and I could've done a new one of those, but I decid­ed I want­ed to do this instead.
For those who have a bit of inter­est in process info like I do, this start­ed off as pen­ciled, inked and let­tered on paper, then it was scanned and processed fur­ther in Photoshop.
There real­ly isn't much more to say about it, except that I wish you all a Mer­ry Christ­mas, and Hap­py Hol­i­days! I hope 2022 is good to all of us.