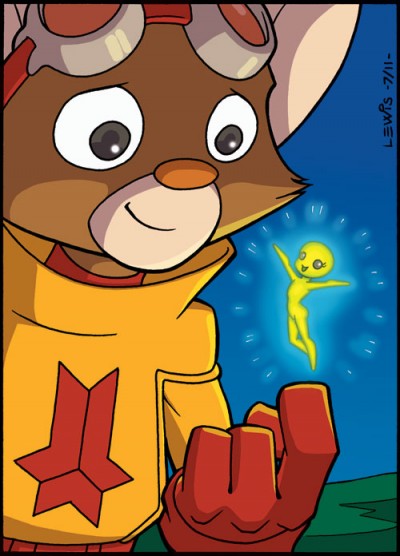 I men­tioned ear­li­er that from time to time, I intend to do posts of "inspi­ra­tional stuff." Basi­cal­ly, we're talk­ing comics I've come across that I think are real­ly good, and kind of inspire you to draw. So here's another.
If you've ever checked out the list of artists over in my side­bar, per­haps you've looked at the work of Jake Park­er. He's one of those artists that seem to strad­dle mul­ti­ple media, includ­ing comics and ani­ma­tion. His stuff is very imag­i­na­tive, appeal­ing and a lot of fun to look at.
One of Jake's cre­ations, Mis­sile Mouse, has now been fea­tured in two books: The Star Crush­er and Res­cue on Tanki­um 3 (Actu­al­ly, Mis­sile Mouse has appeared in three books, if you want to count Flight Explor­er Vol. 1) . You can buy them here. Mis­sile Mouse is a tough lit­tle char­ac­ter who usu­al­ly has to face down char­ac­ters and sit­u­a­tions that are much big­ger than him, but he nev­er backs down. He always does what he has to do.
In my opin­ion, one of the best aspects of these books is the way every­thing's so clear­ly been thought out in great detail. Jake is a "world-builder." He plain­ly puts a lot of thought into design­ing even the tini­est prop. In the back of Res­cue on Tanki­um 3 is a sec­tion where among oth­er things, he goes into great detail about all of Mis­sile Mouse's gear, how it's assem­bled, what prin­ci­ples it works on. The lev­el of back detail and thought put into these books makes for a fun and rich read­ing expe­ri­ence. They're good all-ages reads, and worth check­ing out.
Since it's my art­blog, of course I've got to put up some art. So up top is my Mis­sile Mouse fan art piece. As usu­al, my ani­ma­tion train­ing seems to have com­pelled me to try to get as close to on-mod­el as I can. I did some exper­i­ment­ing with the col­or meth­ods, because if I can't do that here, where can I? It struck me that most­ly we've seen Mis­sile Mouse inter­act­ing with beings who are a good deal big­ger than he is (play­ing the "David and Goliath" card very well), so I thought it might be fun to see him inter­act with some­thing much small­er than himself.
Mis­sile Mouse is ™ and © Jake Parker.
UPDATE: If you look in the Com­ments below, you'll see that Jake has seen this post. He appar­ent­ly liked my draw­ing well enough to post it on his own site here. I'm very flat­tered! Thanks, Jake!