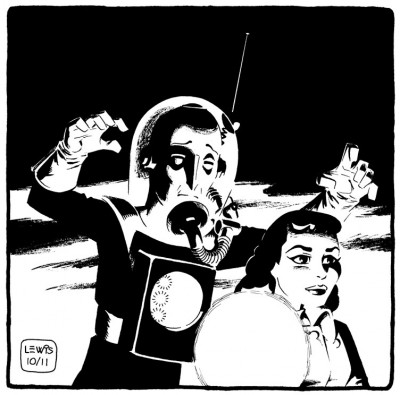 A con­fes­sion: I like a lot of old movies. And I have a bit of a soft spot for many of the old sci-fi or mon­ster movies. Recent­ly, I had the chance to watch The Man from Plan­et X (cour­tesy of TCM and my DVR), which I'd nev­er seen before. I had only ever run across men­tions of it as a kid from time to time in library books on sci-fi films. Turned out the film was decent, but noth­ing real­ly all that special…except for one thing: the title char­ac­ter. There was some­thing real­ly strik­ing about the alien design for this film.
When you boil it down, I sup­pose there's not all that much to it. It's just a nice bit of sculp­tur­al design for the head and hel­met assem­bly. The thing that prob­a­bly sells the alien and makes him mem­o­rable is the built-in up-light­ing they includ­ed in his hel­met, so he car­ried "dra­ma" with him wher­ev­er he went. Oth­ers' mileage may vary, but the visu­al was strik­ing enough to lodge in my head at least. It's a good exam­ple of mak­ing very effec­tive use of what was prob­a­bly a lim­it­ed pro­duc­tion budget.
So here's my shot at the Man from Plan­et X. I saw it as a chance to play around with some dra­mat­ic light­ing and black-spot­ting. It's a bit of an exper­i­ment, in that I tried to ink it the way Mil­ton Can­iff and Noel Sick­les used to do: bang­ing in all my blacks first with a brush (scary!), then going back in with pen where it still need­ed it. I do like the whole "lost edges" effect that work­ing this way helps to achieve.
This scene did­n't exact­ly hap­pen this way in the movie, but so what? It's my blog, and I can draw what I want! And any­way, it seems a rea­son­ably appro­pri­ate image for Halloween.
One last thing here, a bit of triv­ia: the female lead in the film was Mar­garet Field, the moth­er of Sal­ly Field. I don't know if any­thing like that would ever come up in a game of Triv­ial Pur­suit or not, but if so, don't say I nev­er did any­thing for you!
UPDATE: FCA Edi­tor P.C. Hamer­linck made me aware of the fact Faw­cett had actu­al­ly pub­lished a com­ic adapt­ing this movie, with art by Kurt Schaf­fen­berg­er, and that you can check out a b/w UK reprint of it here. Inter­est­ing to see Schaf­fen­berg­er take his art in a dif­fer­ent direc­tion from what we're used to see­ing him do, and to note that there are places in the com­ic where they diverged from the movie! Thanks Paul!