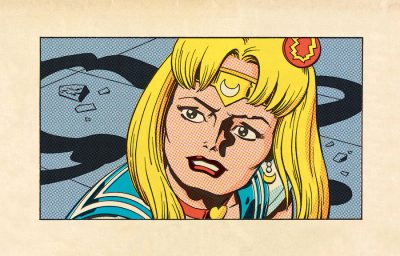 I'm sure many of you out there have heard of Sailor Moon. The inter­est­ing thing is that this char­ac­ter has been around for longer than most peo­ple real­ize. Back in the mid-/late-'70s, Mar­vel Comics licensed the rights to the char­ac­ter, and Jack Kir­by did a com­ic. Col­lec­tors who know about it often have a hard time turn­ing up copies of this book. This is a scan of a pan­el from that rare comic…
…Not buy­ing it? Okay, I con­fess; I just told you a big, fat, stinky lie. Jack Kir­by nev­er drew Sailor Moon (at least, not to my knowl­edge!). This is me. There's appar­ent­ly this inter­net meme that all the cool kids are doing, where you take this one par­tic­u­lar image of Sailor Moon and draw it in your style. It occurred to me that it might be fun to put a spin on it and do it Jack Kir­by style.
One oth­er con­fes­sion: Sailor Moon is a bit after my time. Grow­ing up, the Japan­ese ani­ma­tion that I got to see on TV were things like Speed Rac­er, Kim­ba the White Lion and (my favorite of these) Tobor the 8th Man (I often get a lot of blank looks when I men­tion that one). Even though I'm prob­a­bly late to this par­ty, I thought it might be fun to get in on this meme.