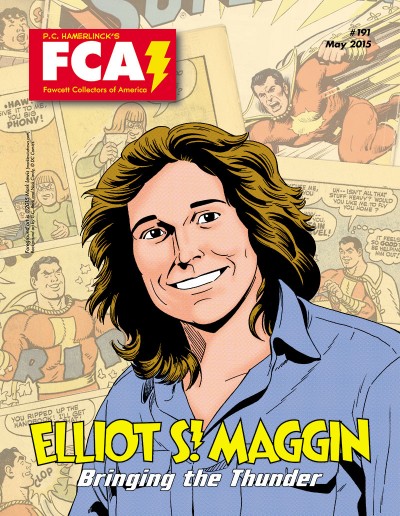 Sor­ry it's been so long since I post­ed any­thing new here! It's time to do some­thing about that.
Here's a pre­view of the cov­er I did for an upcom­ing issue of FCA, appear­ing in the pages of Roy Thomas' Alter Ego. This issue fea­tures an inter­view with comics writer Elliot S! Mag­gin (he was includ­ing an excla­ma­tion mark after his mid­dle ini­tial in those days). Mr. Mag­gin was one of the writ­ers who were called upon to write DC's revival of the orig­i­nal Cap­tain Mar­vel and the Mar­vel Fam­i­ly, in the ear­ly '70s.
Those with an astute eye will real­ize that this illus­tra­tion forms some­thing of a book­end with the Den­ny O'Neil cov­er I post­ed some months back. Keep­ing that visu­al asso­ci­a­tion was at the FCA edi­tor's request, since both O'Neil and Mag­gin were the main writ­ers for the Cap­tain Mar­vel revival.
The back­ground art I'm using here comes from sto­ries Mr. Mag­gin wrote (just as the art I used on Mr. O'Neil's por­trait cov­er came from Cap­tain Mar­vel sto­ries he'd written).
Though the cov­er date says May, this issue should hit the stands some­time in April. I'm look­ing for­ward to read­ing the arti­cle myself!