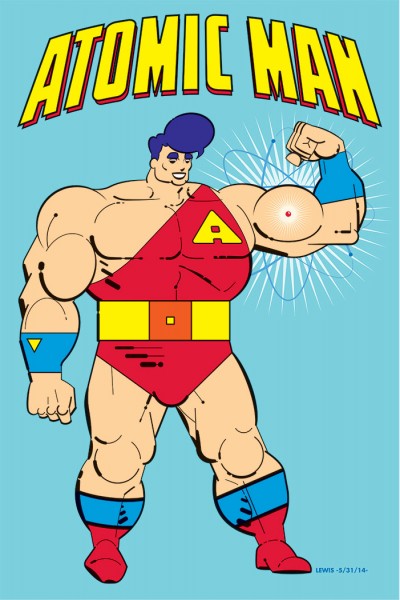 "And now, for some­thing com­plete­ly different!"
I'm dig­ging deep for this one. The '80s saw a lot of inter­est­ing, fun, odd, inde­pen­dent comics. Jeff Bonivert's Atom­ic Man Comics was one of them.
I don't remem­ber just how I first encoun­tered Jeff Bonivert's work, but it most def­i­nite­ly caught my eye. It's unique for the abstract geo­met­ric and graph­ic way he approach­es his draw­ings. I pick up a bit of an art deco or stream­lined feel to it in places. There's no mis­tak­ing his work for any­one else's.
I believe that like me, Jeff is from the Bay Area. There was a time in the '80s when we even worked at the same place, but unfor­tu­nate­ly I nev­er got to meet him and talk comics (it was a pret­ty big place).
I some­how man­aged to get all three issues of Jef­f's Atom­ic Man Comics back when they came out, and there's a def­i­nite sense of fun to the pro­ceed­ings. Atom­ic Man is real­ly kind of a clas­sic-style comics hero. He has super-strength and invul­ner­a­bil­i­ty, but does­n't appear to have any oth­er super­pow­ers beyond that. Jeff added some fresh ideas to the mix, in that Atom­ic Man is hap­pi­ly mar­ried, with two kids, liv­ing in San Fran­cis­co. Being from the Bay Area, that last part sort of mat­tered to me, because it seems like the tra­di­tion­al default for most super­heroes has been to base them in NYC (or some fic­ti­tious NYC surrogate).
For my Atom­ic Man salute, I thought a styl­is­tic exper­i­ment using Adobe Illus­tra­tor might be a good way of attempt­ing some­thing that could evoke the look of Jeff Bonivert's work.
Atom­ic Man is ™ and © 2014 Jeff Bonivert.