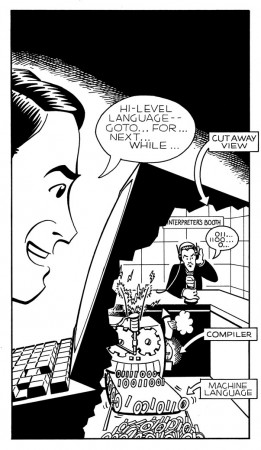 Here's anoth­er PC News cov­er flash­back from my LLNL days, cir­ca '84/'85.
Umm, what to say about this one? I don't know that I can ful­ly explain what's going on here any­more. Too many years removed. I think what's going on is that this was for an arti­cle talk­ing about how they were able to give PC's ver­bal instruc­tions and have them trans­lat­ed into prop­er com­put­er lan­guage, but then you can prob­a­bly pick up that much from it on your own.
And for rea­sons I don't recall, I was play­ing around with a qua­si-Chester Gould "Dick Tra­cy" look. Though I no longer ful­ly under­stand what I was try­ing to do here, I still think it was kind of a fun piece.
The "flash­back-ery" will continue.