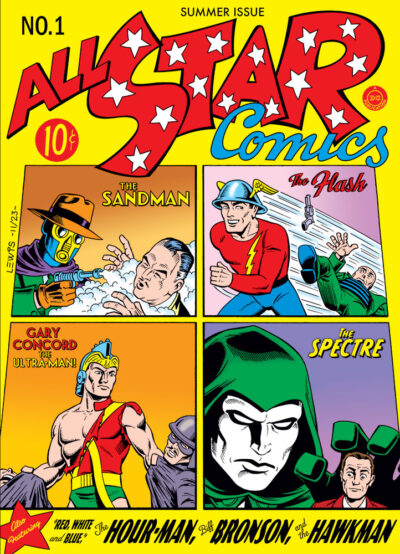 I've men­tioned before how some­times ideas for art kind of come at me from ran­dom direc­tions, and cer­tain ideas will stick in my head until I do some­thing about them. This is one of those.
Most fans of comics and comics his­to­ry will rec­og­nize the sig­nif­i­cance of All Star Comics. Espe­cial­ly issue #3: it was the first appear­ance of the Jus­tice Soci­ety of Amer­i­ca! The cov­er for #3 is well-known, as it's been re-cre­at­ed and repur­posed by a num­ber of oth­er artists over the years. I even did it myself once some years back for an FCA cov­er (Faw­cett Col­lec­tors of Amer­i­ca), replac­ing the DC heroes with Fawcett's.
Less famil­iar are the issues pri­or to #3. I guess once DC had pub­lished Archive Edi­tions con­tain­ing every issue from All Star #3 for­ward, it was decid­ed that they prob­a­bly should com­plete the set and put out an Archive col­lect­ing the first two issues, before the title became about the Jus­tice Soci­ety. Hence vol­ume #0.
On a recent reread of that vol­ume, I was struck by the cov­er of All Star #1. The pub­lished cov­er seemed an after­thought: using exist­ing art pho­to­stat­ted from pre­vi­ous sto­ries and past­ed up, the char­ac­ters look­ing tiny and con­strict­ed in the lay­out. Maybe the issue was run­ning close to the dead­line when they real­ized they still need­ed a cov­er. I start­ed to think, "What might it have looked like if they'd had more time to put it together?"
And as men­tioned up top, the idea stuck, and the only way to get it out of my head was to actu­al­ly do it! So here's my take on it.
Hope you enjoy it!