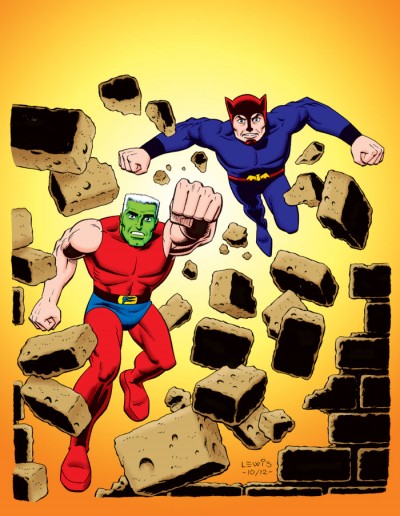 What? These weren't the guys you were expecting? 🙂
Appar­ent­ly back in the mid/late-'60s, some­one at Dell Comics thought it would be a good idea to take some of the clas­sic mon­sters and re-imag­ine them as super­heroes. There had been a sort of resur­gence of inter­est in the old Uni­ver­sal Mon­sters, due to their expo­sure to a new gen­er­a­tion on TV. You cou­ple that with a burst of inter­est around that time in super­heroes from a pop/camp per­spec­tive (thanks to the Bat­man TV show), and you can see the reasoning.
I've nev­er actu­al­ly come across one of these books to be able check them out for myself. My aware­ness of them is very lim­it­ed, gleaned only from their occa­sion­al men­tions in places like Roy Thomas' Alter Ego mag­a­zine, or on var­i­ous blogs or comics sites.
Then why am I draw­ing these char­ac­ters? I guess there's a fun sense of wonk­i­ness to the whole thing that kind of appeals to me. Sort of like watch­ing Plan 9 from Out­er Space. I thought it would be a kick to just take a crack at these guys and see what it might wind up look­ing like.
Hap­py Halloween!