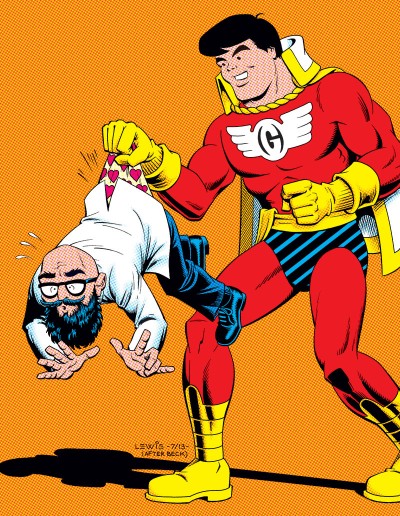 First things first: yes, this is anoth­er FCA cov­er illus­tra­tion, which will appear in the Jan­u­ary 2014 issue of Roy Thomas' Alter Ego, on stands in Decem­ber. And no: this is not Cap­tain Marvel!
The char­ac­ters here are Goodguy and his neme­sis, Dr. Sin. Pri­or to being asked to do this cov­er, I must con­fess I was unfa­mil­iar with them. They were cre­at­ed by fan artist Alan Jim Han­ley. As a young comics fan, I had no clue that there were that many oth­er peo­ple out there who also loved old comics, let alone that there were fans who did their own comics! So I nev­er came across the exis­tence of this strip back then.
My title for this post comes from Goodguy's peri­od­ic catch­phrase, his equiv­a­lent of Cap­tain Mar­vel's and Bil­ly Bat­son's "Holy Moley!" Though we did­n't wind up incor­po­rat­ing it into the cov­er direct­ly, my post here seemed a good place to use it.
In doing the cov­er, I had the oppor­tu­ni­ty to read a cou­ple of Goodguy sto­ries. Fun stuff! Along with his sense of humor, Han­ley clear­ly had a lot of love for old comics, and old comics char­ac­ters. I would­n't mind see­ing some more.
Oh; I should men­tion too that the FCA issue I did this cov­er for also reprints a com­plete Goodguy sto­ry, appear­ing in col­or for the very first time. Yours tru­ly did the coloring.