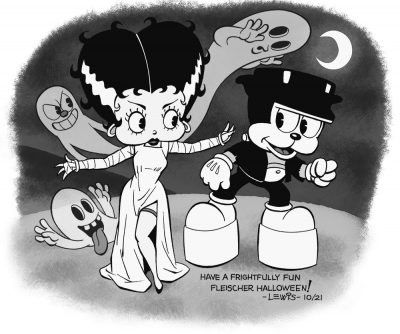 Long time vis­i­tors to this site may recall that come Hal­loween, I have some­thing of a loose tra­di­tion of doing a Franken­stein draw­ing to celebrate.
This year, I was kind of wrack­ing my brain for inspi­ra­tion, look­ing at var­i­ous old comics cov­ers, movie stills and things, and none of the ideas I was com­ing up with were real­ly grab­bing me. Then I stum­bled across a two hour block of Fleis­ch­er Stu­dios car­toons air­ing on TCM, done by way of cel­e­brat­ing the stu­dio's 100th anniver­sary. Watch­ing one of the Bet­ty Boop car­toons, an idea final­ly struck me that I had to do. It grew from there. This is the result.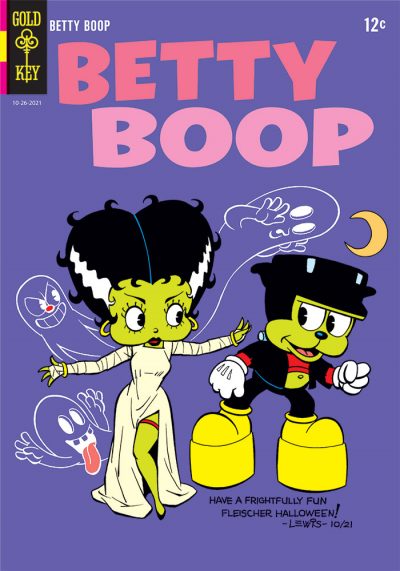 Orig­i­nal­ly, I was just going to do the black and white image, but while work­ing on it, the thought struck me that this could also work as a com­ic book cov­er. Some of you may be won­der­ing: why make this a Gold Key cov­er par­tic­u­lar­ly? Because back in the Sil­ver Age, if you want­ed to read a com­ic fea­tur­ing a car­toon char­ac­ter, you were going to end up buy­ing a Gold Key com­ic. They had the licens­es to pret­ty much all of the char­ac­ters. Though (so far as I've been able to deter­mine) they nev­er actu­al­ly did a Bet­ty Boop com­ic, if any­one had pub­lished one back then, Gold Key would've been the publisher.
I've always had a gen­er­al soft spot for the "ball and rub­ber hose" school of ani­ma­tion. And more specif­i­cal­ly, I've always got­ten a kick out of the Fleis­ch­er Stu­dios car­toons, because they have their own per­son­al­i­ty that's noth­ing like Dis­ney's, Warn­er Bros., or any­one else's. The Fleis­ch­er car­toons are chaot­ic in a fun way, where almost any­thing can hap­pen. Inan­i­mate objects come to life at a momen­t's notice.
If you don't know about the Fleis­ch­er Stu­dios car­toons, you real­ly should do some­thing to rec­ti­fy that. You can prob­a­bly find a num­ber of them on YouTube. They're a real treat (no trick!).
"Dad joke" free of charge. Hap­py Halloween!