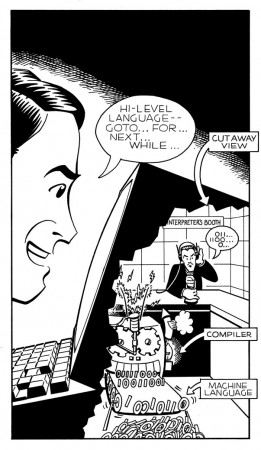 Here's another PC News cover flashback from my LLNL days, circa '84/'85.
Umm, what to say about this one? I don't know that I can fully explain what's going on here anymore. Too many years removed. I think what's going on is that this was for an article talking about how they were able to give PC's verbal instructions and have them translated into proper computer language, but then you can probably pick up that much from it on your own.
And for reasons I don't recall, I was playing around with a quasi-Chester Gould "Dick Tracy" look. Though I no longer fully understand what I was trying to do here, I still think it was kind of a fun piece.
The "flashback-ery" will continue.