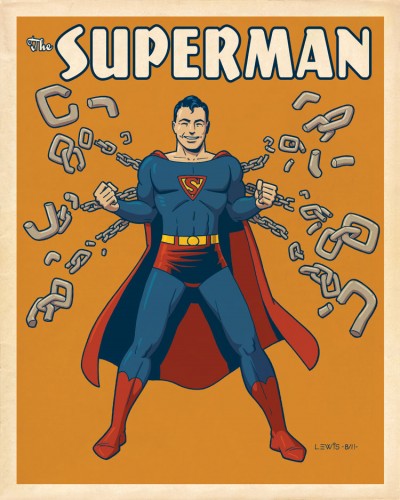 If you fol­low comics news at all, you've prob­a­bly heard there's this big reboot that DC Comics is doing in Sep­tem­ber. They're start­ing all their books over from #1, redesign­ing all the char­ac­ters and redo­ing their ori­gins. You can't assume now that you know any­thing for sure about who they are, their moti­va­tions or the over­all scenario.
I'm not going to get into com­men­tary on that here (there's been plenty of that already in other places online). But I'll admit the idea of the retire­ment of the orig­i­nal char­ac­ters has me think­ing back on them a bit wist­fully. Though tech­ni­cally a child of comics' sil­ver and bronze ages, I've always had a fas­ci­na­tion with the golden age era too. Despite the fact that work was often a bit crude in com­par­i­son to what came later, there was a cer­tain life and raw energy to those early incar­na­tions of the characters.
It's a lot eas­ier to lay hands on golden age comics sto­ries now. Back when I was a kid, mostly you just got to read about them (in books like Steranko's His­tory of Comics, or All in Color for a Dime). If you could lay hands on one of DC's 100-Page Super-Spectaculars though, you knew you were in for a rare treat.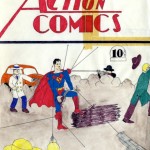 Like I say, I've long had a soft spot for these early, pri­mal ver­sions of char­ac­ters like Super­man (the proof is at left; a scan of a fake golden age cover I did when I was about 12 or 13). And with the DC reboot com­ing, I thought I'd revisit the orig­i­nal Super­man once again. The new image up top could've gone in sev­eral dif­fer­ent direc­tions, but what I wound up hon­ing in on is a Shuster-esque ver­sion, posed more for­mally. It's been taken in the direc­tion of vin­tage poster art from an even ear­lier era. Because that seemed like a fun idea at the time.
Just my salute to the golden age in gen­eral, and the orig­i­nal Super­man in par­tic­u­lar. Thanks very much, Mr. Siegel and Mr. Shuster!
UPDATE: I recently dis­cov­ered online these neat Super­man pages, drawn by Stew­art Immo­nen some years back. Done in the style of Win­sor McCay's "Lit­tle Nemo," they're not entirely unre­lated to what I'm try­ing to do here with this poster. I thought these were really neat, and worth shar­ing. It's funny how well Super­man works in a style like this!