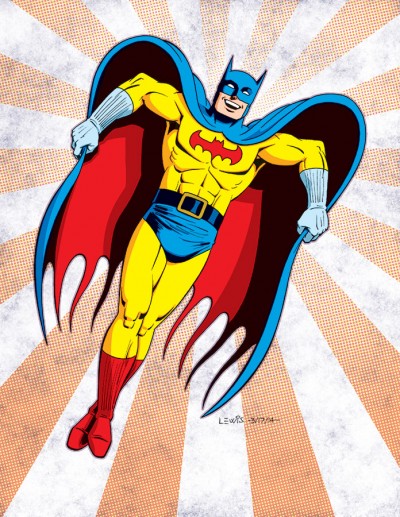 I know what you're think­ing. You're look­ing at my draw­ing and going, "Hey! He goofed up! He col­ored that draw­ing of Bat­man yel­low!" Nope! It's because it's not Batman.
Some­time back, in cruis­ing around the inter­net and fol­low­ing var­i­ous links, I stum­bled across an arti­cle on a pop cul­ture site called Top­less Robot, talk­ing about a num­ber of Korean car­toon char­ac­ters who might hit the viewer with a sense of, mmm, déjà vu, shall we say. One that some­how stuck with me was the Golden Bat­man (or sim­ply the Golden Bat, as he was some­times referred to).
Dif­fer­ences between Bat­man and the Golden Bat­man don't start and end with their cos­tumes. They gave Golden Bat­man the power of flight (which sort of makes sense for a char­ac­ter named after a crea­ture who flies), as well as super-strength (shades of the old Bat­man story "Bat­man– The Super­man of Planet X"!). And that's not all! Golden Bat­man can fire laser beams from his fin­gers. What do you think of that, Caped Crusader?
You can actu­ally find the Golden Bat­man car­toon on YouTube in five parts, if you're curi­ous enough to see it. Dubbed into Span­ish though, oddly enough. Seem­ingly not avail­able in Eng­lish, for some reason.