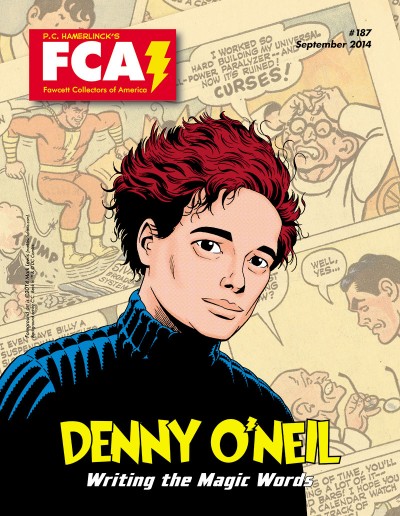 Here's a preview of another cover I did for FCA, appearing in the pages of Roy Thomas' Alter Ego magazine. Though the cover date is September of this year, I believe the magazine will actually be available in August.
For those who don't know, DC Comics brought back the original Captain Marvel in the early '70s. The Big Red Cheese had been missing from the spinner racks for several years by that point, so his reappearance was greatly looked forward to by a number of fans. Including some younger fans like myself, who had seen very little of the character previously, but knew that they really liked what they saw.
Denny O'Neil was one of the writers tapped by Editor Julius Schwartz to write this revival. In fact, Mr. O'Neil wrote the story in Shazam! #1 which brought the Marvel Family and company back into the modern age. FCA #187 features an interview with O'Neil about his work on the title.
Using what reference I could find online, at Editor P.C. Hamerlinck's request, this was an attempt at a portrait of Mr. O'Neil as he might have looked around the time he was writing the comic. The background art (I hasten to add) is not mine! It's scans of actual panels from some of the Captain Marvel stories Mr. O'Neil wrote, drawn by C.C. Beck himself. Scanned straight from my own personal copies of those comics, of course. 🙂