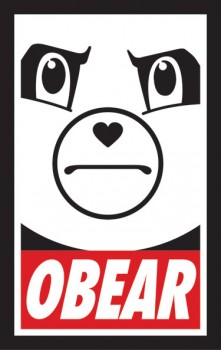 Okay, I prob­a­bly need to explain about this one. To do that, I need to get into a lit­tle of the "behind the scenes" work­ings of WordPress.
A few months back, I decid­ed it would be a good thing to have some kind of a hit counter for my site, run­ning in the back­ground. The beau­ty of Word­Press is that there's like­ly a Plu­g­in you can install for just about any pur­pose. I want­ed a Plu­g­in that would give me an idea of how many hits my site was get­ting, where peo­ple were com­ing from, what they were look­ing at, etc. It's been fas­ci­nat­ing to watch this info accu­mu­late as time goes by. In some cas­es, it's been sur­pris­ing to see what posts and images get more hits than oth­ers. And one thing that's turned up is that the Care Bears images on my site have been pret­ty popular.
So, I'm no dum­my; it made sense to per­haps gen­er­ate one more. I revis­it­ed a Post-it draw­ing I did as a goof back when I was work­ing on "Care Bears," pol­ish­ing it up in Adobe Illus­tra­tor. Some of you will rec­og­nize this as a play on Shep­ard Fairey's OBEY Giant image, fea­tur­ing the late wrestler André the Giant done up pro­pa­gan­da poster style. Per­haps it's a bit of an oblique gag to play off that icon­ic imagery with a Care Bear, but have you ever had one of those visu­al ideas that get stuck in your head and won't go away unless you get them out on paper? You oth­er artists out there know what I'm talk­ing about.
So here you are, for what­ev­er it's worth. And for those who won­der which Bear this is, I fig­ure it's prob­a­bly Grumpy. Because he's cool like that.