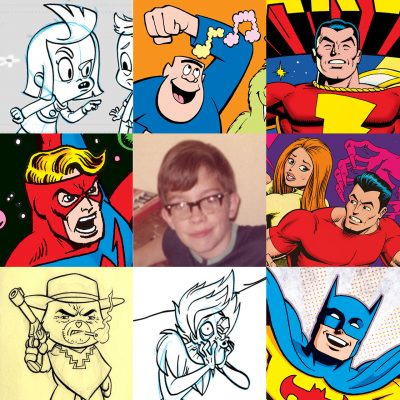 So there's this thing, and I guess all the cool kids are doing it over on the Twit­ters and the Insta­grams. It's called "Art Vs. Artist." You put some of your work togeth­er in this for­mat, along with a pic­ture of your­self in the cen­ter. It seemed like some­thing that might be sor­ta fun to take a crack at, so here we go!
To be hon­est, I'm not entire­ly sure what all the rules are (if there are any), so I'm prob­a­bly break­ing some of them. I did get the idea that this was sup­posed to cen­ter around faces, so there's at least that. Some of these sam­ples are more recent and oth­ers slight­ly old­er. At the moment, I feel like this works pret­ty well. If I were to attempt this again tomor­row, it's pos­si­ble I could pick a few oth­er images.
I feel like I might be break­ing one of the rules with my pho­to in the cen­ter. It's (obvi­ous­ly) not a cur­rent self­ie. Not by a long shot! That's a 12 year-old me, on my birth­day. If you could see more of the pic­ture, you'd see I was attempt­ing to paint a pic­ture (using oils) of the USS Enter­prise fir­ing on a Klin­gon ship. Why that pho­to? I fig­ure: don't we all start some­place like that as artists? Every­thing else flows from that.