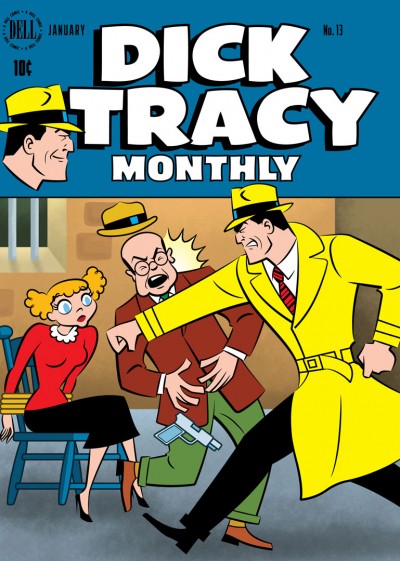 Per­haps some of you read­ing this might be famil­iar with the Cov­ered Blog. If not, it's a site where artists are chal­lenged to take an exist­ing, pub­lished com­ic book cov­er and rein­ter­pret it. The results can be inter­est­ing, and I thought it might be fun to take a shot at doing one.
I chose to rework the cov­er of Dell Comics' Dick Tra­cy Month­ly #13, cov­er-dat­ed Jan­u­ary 1949 (If you're curi­ous to com­pare, you can view the orig­i­nal side-by-side with mine over on Cov­ered here). But I did­n't do it in one of my usu­al styles. Instead, I real­ized that Chester Gould's style on Dick Tra­cy was pret­ty 2D and graph­ic to begin with, and that it might be fun to push it just a lit­tle fur­ther into look­ing some­thing like a Flash ani­ma­tion style.
I worked on a Flash-ani­mat­ed direct-to-video fea­ture, Hydee and the Hy Tops, and enjoyed it very much. The look of Flash is fun, and I would wel­come the oppor­tu­ni­ty to work on anoth­er project in that vein. I have a lot of respect for artists like Craig McCrack­en and Lau­ren Faust who do that kind of work very well. So it seemed like this would be a good oppor­tu­ni­ty to stretch some artis­tic mus­cles and try some­thing new.
The BG por­tion of this cov­er was done using Pho­to­shop, but the rest of it was done in Adobe Illus­tra­tor. If you've vis­it­ed my site before, you know I've used Illus­tra­tor for a num­ber of dif­fer­ent projects. But this project required car­ry­ing out the final image in a dif­fer­ent way from how I'd done before.
As far as why I chose to rein­ter­pret a Dick Tra­cy cov­er in the first place, I think it might be because I've been fol­low­ing the reg­u­lar Dick Tra­cy strip these last sev­er­al months, so Tra­cy was in the back of my mind. The strip's been reju­ve­nat­ed by Joe Sta­ton and Mike Cur­tis, and I've been hav­ing a blast fol­low­ing it. If you get the chance, give it a look!