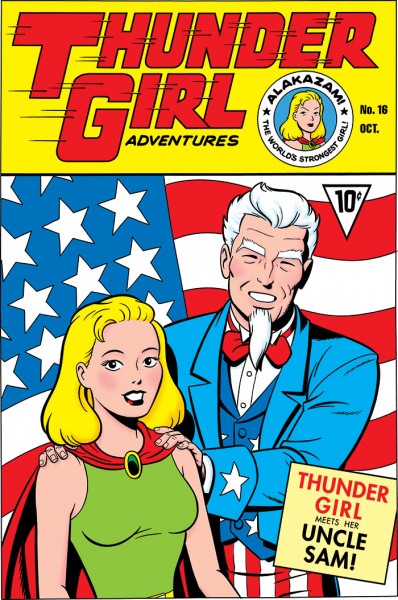 What you're see­ing here is actu­al­ly a draw­ing gen­er­at­ed some years ago for Big Bang Comics. It was a fake old com­ic cov­er, done for one of the His­to­ry issues we put togeth­er. Those issues con­coct­ed a whole fic­ti­tious back his­to­ry of Big Bang as a comics pub­lish­er (bor­row­ing their for­mat from the two com­plet­ed vol­umes of The Ster­anko His­to­ry of Comics). I did­n't ink this image; if mem­o­ry serves, the inks were by Jeff Mey­er, who also inked my work on a num­ber of oth­er projects around that time.
The col­or on this is new, though (which is why you're see­ing it here). I was recent­ly con­tact­ed by Big Bang head hon­chos Gary Carl­son and Chris Eck­er, asked if I'd be game to final­ly add col­or to this cov­er. They've recent­ly part­nered with a com­pa­ny named Pulp 2.0 Press to bring back some of the Big Bang prop­er­ties, and look at new ways of get­ting them out there. I under­stand this image might even­tu­al­ly end up on prod­ucts like t‑shirts, cof­fee mugs, etc. Which would be a very cool thing to see!
So this gives me the chance to talk about a cou­ple oth­er things, while this image is up. I believe I've men­tioned my Big Bang asso­ci­a­tion before, but haven't got­ten into much detail about it. Though I did­n't entire­ly get in on the ground floor, I came in pret­ty close to it. Gary and Chris had­n't yet pub­lished their first few issues through Cal­iber, but were begin­ning to assem­ble the con­tents when I was intro­duced to Gary at Com­ic Con. This meet­ing came about because writer Nat Gertler and I had done a one-shot for Par­o­dy Press/Entity Comics called Mis­ter U.S.: 50 For­got­ten Years (This lat­er came out as Big Bang Comics #8). PP/EC tried to solic­it for it twice. Unfor­tu­nate­ly, the num­bers weren't there. But Pub­lish­er Don Chin thought there was some­thing there that might be of inter­est to Gary for what he and Chris were work­ing on, so Don made the introduction.
Gary and I hit it off right away. I was first brought in just to help design and draw a Simon/Kir­by-ish char­ac­ter they'd had an idea for, called the Badge. But they dis­cov­ered that I could also help with cre­at­ing logos, as well as design­ing a slew of oth­er char­ac­ters and doing occa­sion­al col­or work. I did­n't just get to draw like Simon and Kir­by, but oth­er artists too, along the way. Plus I even had the oppor­tu­ni­ty to help out with sto­ry­line con­tri­bu­tions. It was a blast, and exact­ly the sort of thing you hope to get to do when you dream of doing comics as a kid. So, thanks, Gary and Chris!
And while I'm here, this is an oppor­tu­ni­ty for me to say some­thing about Thun­der Girl and Bill Fugate. Thun­der Girl was sort of Big Bang's nod to Faw­cett's Cap­tain Mar­vel. And Bill Fugate was the per­fect artist to bring her to life and draw her sto­ries. With­out Bil­l's involve­ment from the begin­ning, she would not have been the same. Bil­l's draw­ings just had "fun" com­ing out of every line on the page. His work was car­toon­ing of the high­est order, in the best pos­si­ble sense. I hon­est­ly think C.C. Beck would've liked Bil­l's work a great deal. When­ev­er Bill man­aged to get a new Thun­der Girl sto­ry com­plet­ed for pub­li­ca­tion, it was an occa­sion. Heck, any time Bill pro­duced any comics work, you knew you were in for a real treat!
I admired many of my fel­low Big Bang con­trib­u­tors for their tal­ents and skills. With Bill, I con­sid­ered myself an out­right fan. I nev­er had the chance to meet him or exchange emails, tell him how much I tru­ly loved his work. Unfor­tu­nate­ly, Bill passed away (much too soon!) back in Feb­ru­ary this year. He was not as well known a name in comics as I think he should've been. As I've told some peo­ple already: in anoth­er world, some very smart pub­lish­er would've paid Bill big bucks to cre­ate any comics he want­ed to draw. And those comics would've sold in real­ly huge numbers.
R.I.P., Bill. You are most def­i­nite­ly missed.