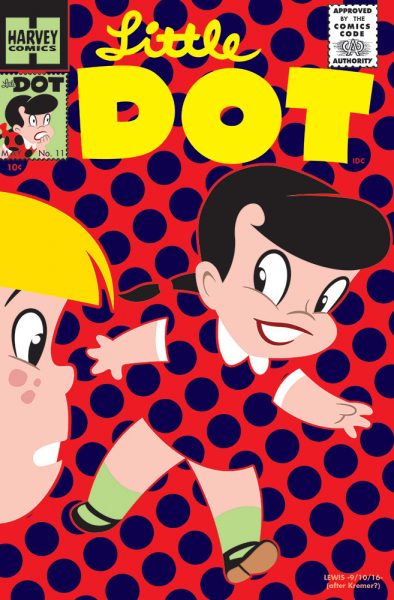 Though it might look to some like I'm pret­ty much exclu­sive­ly a fan of super­heroes, I actu­al­ly enjoy many dif­fer­ent types of comics. And late­ly, I've had rea­son to go back and re-exam­ine a lot of the old Har­vey Comics.
I'm dat­ing myself by admit­ting it, but I remem­ber when they still pub­lished Har­vey Comics. The pub­lish­er did many dif­fer­ent types of mate­r­i­al over the years they were in busi­ness, but they're best known for pro­duc­ing real­ly good comics for kids, fea­tur­ing char­ac­ters like Casper the Friend­ly Ghost, Richie Rich, Lit­tle Audrey, Lit­tle Dot, Lit­tle Lot­ta and many others.
Like a lot of comics fans around my age or old­er, I have fond mem­o­ries of read­ing Har­veys, pur­chased off the spin­ner racks of the local drug­store or 7‑Eleven. Unfor­tu­nate­ly, aside from a very brief revival in the ear­ly '90s, Har­vey ceased pub­lish­ing comics a long time ago, so kids today have rarely had the priv­i­lege of meet­ing those characters.
I had­n't real­ly looked at any Har­vey books in a long time, so it was some­thing of a rev­e­la­tion to go back and re-exam­ine some of those sto­ries recent­ly with a more expe­ri­enced artist's eye than what I pos­sessed as a child. I was pleased to find that the work stands up excep­tion­al­ly well! The char­ac­ters are well-designed and well-drawn. Though uncred­it­ed in the comics them­selves, the tem­plate was estab­lished by artists Steve Muf­fat­ti and War­ren Kre­mer, and the oth­er Har­vey artists (like Howie Post, Ernie Colón and Sid Couchey) worked to main­tain that high lev­el of craftsmanship.
I thought it might be fun to re-inter­pret one of the old Har­vey cov­ers and take it in a more flat and graph­ic direc­tion. Lit­tle Dot #11 seemed like a real­ly good can­di­date. I redrew the cov­er on paper first, then used Adobe Illus­tra­tor to com­plete the job. Enjoy! 🙂