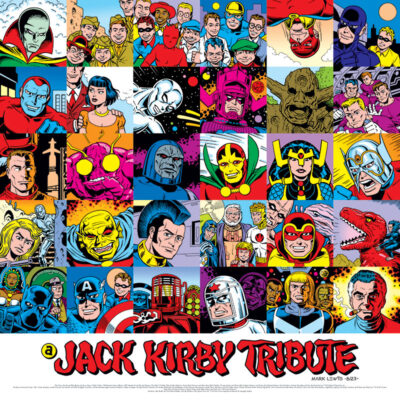 Recent vis­i­tors to my site in August will know that I was doing the online Jack Kir­by Trib­ute every day, the brain­child of Howard Simp­son. it was a blast par­tic­i­pat­ing, refresh­ing my appre­ci­a­tion all over again for all the great work Kir­by did over the years.
I stuck to a very spe­cif­ic for­mat with all of these: por­traits in a small square, col­ored with the lim­it­ed palette used in the old comics most of these char­ac­ters orig­i­nal­ly appeared in, even down to the dot pat­terns. And I had in mind that the end goal was to be able to assem­ble them all into one com­pos­ite image. I was­n't sure how that would work out, but here's how it did!
This was kind of just a per­son­al challenge/exercise in tak­ing the Trib­ute a step fur­ther. Not sure what hap­pens with it beyond this point.
Hope you enjoyed the ride!