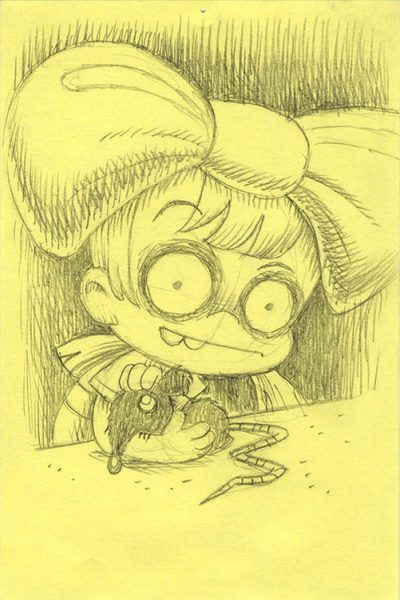 Here's install­ment #4, of my countdown/celebration of the return of Har­vey Girls For­ev­er! to Net­flix, this Fri­day May 10th!
Today's Post-It draw­ings are a pen­cil draw­ing of the Bow, and Tiny dressed up as Frankenstein.
Unlike the oth­er draw­ings I've been post­ing, this draw­ing of the Bow seemed like it should stay in pen­cil. It seemed to give it a bit of the feel­ing of an engrav­ing some­how, or an Edward Gorey drawing.
And Tiny, always want­i­ng to be taller, is of course wear­ing a Franken­stein cos­tume. Specif­i­cal­ly, it's based on Dick Briefer­'s comedic take that he did for a bit back in the Gold­en Age of comics. I did­n't mess up the draw­ing on the mask; that's how he drew the nose, way up high like that! I kind of talked a bit about Briefer­'s Franken­stein here.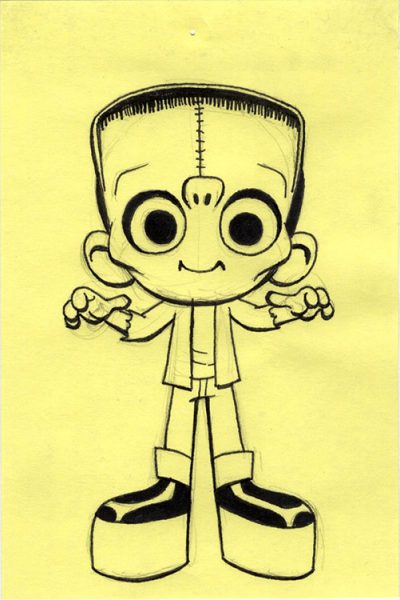 That's it for these Post-It draw­ings. If things go accord­ing to plan, I should be able to post some of my board revi­sion work from Har­vey Girls For­ev­er! tomor­row at some point.