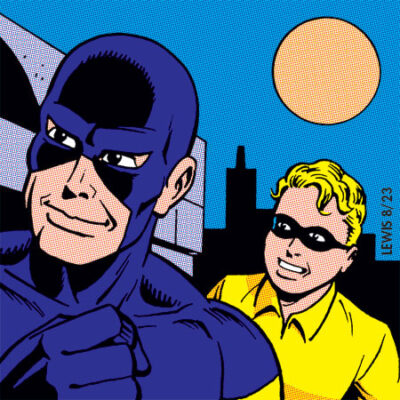 We're at Day 6 of Howard Simp­son's month-long Jack Kir­by cel­e­bra­tion online, in hon­or of Jack­'s birth­day. It's open to all cre­atives, and you should be able to find any posts on your favorite social media plat­form via the hash­tag #Kir­b­yArt­Trib­ut­es.
Today's prompt is Sand­man and Sandy. Sand­man was actu­al­ly not a Simon and Kir­by cre­ation! Orig­i­nal­ly cre­at­ed by writer Gard­ner Fox and artist Bert Christ­man for DC back in the Gold­en Age, he had more of a pulp char­ac­ter appear­ance, run­ning around in a suit and hat, wear­ing a gas mask and gassing crooks with his gas gun. He pre-dat­ed many oth­er super­heroes, first appear­ing in 1939 in Adven­ture Comics #40 and The New York World's Fair Comics #1.
By 1941, it was appar­ent­ly felt he was out of step with what was going on with DC's oth­er char­ac­ters, so Mort Weisinger and artist Paul Nor­ris gave him his new pur­ple and yel­low super­hero togs, and added Sandy as a side­kick. Simon and Kir­by picked up the baton from Weisinger and Nor­ris lat­er that year, most def­i­nite­ly putting their stamp on the char­ac­ter! They dumped the cape that Nor­ris had ini­tial­ly giv­en him (mak­ing him look more like an S&K cre­ation), and played around with sto­ries about sleep and dreaming.
Hope you liked my lit­tle trib­ute to the Simon and Kir­by ver­sion of Sand­man and Sandy, and tune in again tomorrow!