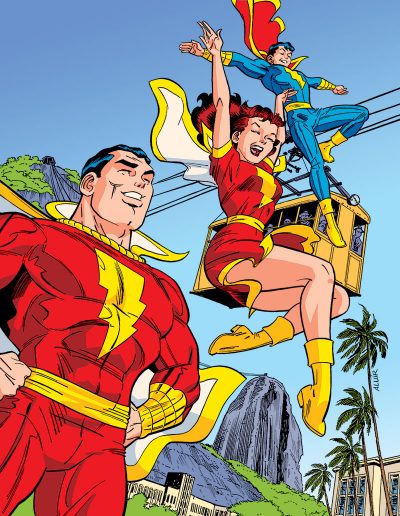 First post of 2017!? That's a little embarrassing, but so it goes. Anyway,…
I'm presenting here the cover art (sans copy) for an upcoming issue of FCA (the Fawcett Collectors of America). Regular visitors here will know that it's something of a magazine-within-a-magazine, published within the pages of Roy Thomas' Alter Ego. This issue of FCA (#205) will be appearing in Alter Ego #146.
FCA Editor P.C. Hamerlinck had told me that this issue would be about comics featuring the Marvel Family that were published in Brazil, and possibly some other South American countries too. The proverbial cartoon lightbulb clicked on over my head, and I proposed contacting my friend, the hugely talented Aluir Amancio, to see if he might be willing to do this cover for us. Aluir has done a lot of comics and animation work in his career, not only for his native Brazil, but for comics publishers and animation studios here in the US. I was very happy when Aluir said he was on-board, and I absolutely love what he did.
Aluir decided to have the Marvels touching down near the famous Sugarloaf Mountain in Rio de Janeiro.  While it's most definitely Aluir's work, I thought he did a great job of also capturing the Golden Age sense of fun these characters should always have. I especially love his take on Mary Marvel here!
Originally, I was going to have the caption on the cover be in Portuguese, until it was pointed out to me that not all the comics in question were published in Brazil. But nothing says I can't use that caption here, so it's the title of my post.
To be clear as to who did what, this drawing is all Aluir. My only contribution is color. Aluir, my friend, again, thanks so much for your great work on this cover!