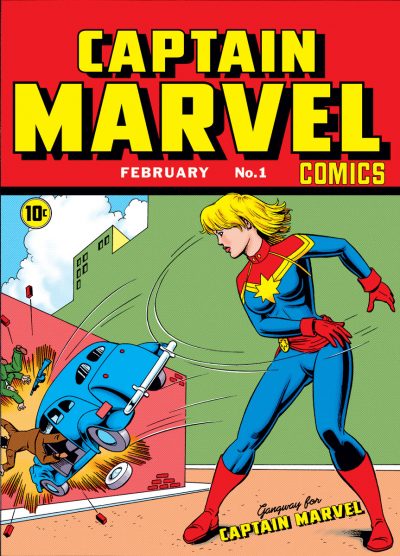 Some of you will rec­og­nize this as a re-cre­ation/rein­ter­pre­ta­tion of the cov­er of Whiz Comics #2, first appear­ance of the orig­i­nal Cap­tain Mar­vel in the Gold­en Age.
This was inspired by a sto­ry a friend told me a few weeks back. Like me, his default set­ting when some­one says "Cap­tain Mar­vel" is to think first of the Faw­cett Comics orig­i­nal. His wife does­n't par­tic­u­lar­ly read a lot of comics, but she's famil­iar with the char­ac­ter through him. Recent­ly, he and his wife were out at the movies. They were look­ing at the posters for com­ing attrac­tions. One was for Mar­vel's Cap­tain Mar­vel film. My friend's wife looked at the poster and was puz­zled. "Um, why is Cap­tain Mar­vel a girl?"
Look­ing around online, there seems to be more than one per­son out there who's a lit­tle con­fused as to why these dif­fer­ent char­ac­ters have the same name. I've seen forums where this ques­tion's been asked. Peo­ple who know what's going on try to explain, only to per­haps go into too much detail, caus­ing the eyes of those who asked the ques­tion to glaze over and regret their hav­ing asked. So I'm not going to get into all that here.
This just appealed to my sense of fun to make this swap. It's not like I haven't made a char­ac­ter swap like this before! I've even swapped pub­lish­ers on this one. In my mind, this would've been pub­lished by Timely/Marvel. I even gave the Cap­tain a new/old logo, in line with the kind of logos they used back then.
And like many of you, I'm look­ing for­ward to see­ing what Mar­vel has done with their Cap­tain Mar­vel in the movie!