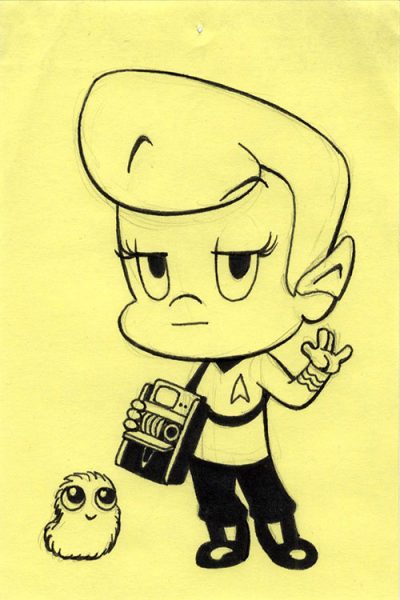 So com­ing up this Fri­day, May 10th, Net­flix debuts the next sea­son of Har­vey Street Kids, now re-titled Har­vey Girls For­ev­er! By way of celebrating/counting down, I thought it might be fun to post some of the Post-It draw­ings I did of some of the char­ac­ters dur­ing breaks.
It's been awhile since I put up any Post-It draw­ings. I've prob­a­bly felt too com­pelled to have to always put up fin­ished work here. Post-It draw­ings like this used to be a lot more com­mon sight when ani­ma­tion stu­dios still worked on paper. It's not as com­mon now, but our sto­ry­board revi­sions crew had some­thing of a wall of Post-It draw­ings like this going while we were on the show. Kind of a fun way to get goofy ideas out of your head by get­ting them onto paper.
Just Dot today. If you've watched the show, the idea of her cos­play­ing as Spock makes a lot of sense.
Stay tuned! More to come tomorrow.