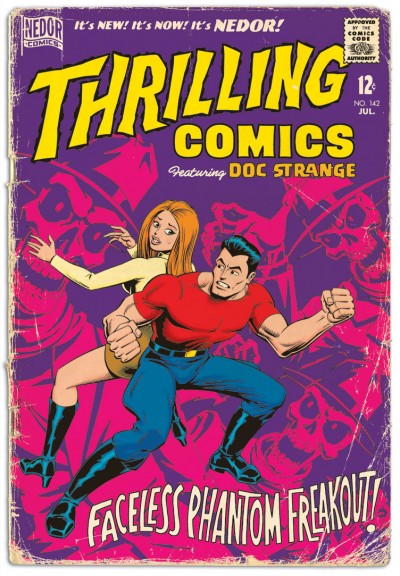 Now that it's fin­ished, I can show you one of the two items I teased back in Decem­ber. It's a pin-up of the old Nedor Comics hero Doc Strange, as he might have appeared on the cov­er of an issue of Thrilling Comics in 1965, had Nedor still been pub­lish­ing at that point.
If you're not famil­iar with the com­pa­ny, Nedor pub­lished (under sev­er­al names) dur­ing the gold­en age. They actu­al­ly had a fair­ly siz­able group of heroes, includ­ing Doc Strange. Nedor ceased pub­lish­ing comics at the end of the gold­en age. Since then, many peo­ple have tak­en a shot at doing some­thing with their old char­ac­ters. AC Comics has made use of them over the years, and so did Alan Moore and Peter Hogan more recent­ly in the Tom Strong spin­off minis­eries, Ter­ra Obscura.
Doc was a scientist/adventurer who invent­ed a serum he named Alo­sun, dis­tilled from "sun atoms." This serum gave him super­hu­man strength, flight and invul­ner­a­bil­i­ty when he used it.
Enough of the his­to­ry les­son. So why did I do this pin-up/­cov­er? Easy; because I was asked. The one and only Will Meugniot is cur­rent­ly doing a new cre­ator-owned series (in the back of AC Comics' Fem­Force) that picks up the threads of the Nedor books with the descen­dants of some of the char­ac­ters. It's called "Agents of N.E.D.O.R.," and is intend­ed as a peri­od piece tak­ing place in 1965. Will invit­ed sev­er­al artists to con­tribute pin-ups of the orig­i­nal Nedor char­ac­ters, and I was very flat­tered to be asked if I'd like to do so too.
As is typ­i­cal for me, instead of mak­ing things sim­ple on myself, I had to make a whole cov­er out of it. Since Will's sto­ry takes place in 1965, I thought this should be a cov­er for Thrilling Comics (which starred Doc) also from '65, as if Nedor had kept on pub­lish­ing all that time. I even did some math to work out the issue num­ber. How's that for obsessive?
Doc Strange most often went on his adven­tures accom­pa­nied by his young side­kick Mike (who wore an iden­ti­cal out­fit, only with the addi­tion of a green cape for some rea­son). I thought it would be more fun though to show Doc with his girl­friend, Vir­ginia Thomp­son, as she would also some­times take part in his adven­tures. Of course, I updat­ed her look here for the times.
This will appear in b/w line art form in Fem­Force #159, since the book has b/w inte­ri­ors. But for my blog here, I want­ed to go full col­or. Because it's how I saw this in my head from the start. I get asked to do a b/w pin-up and I envi­sion some­thing in col­or; go figure!
Thanks, Will. This was a lot of fun!