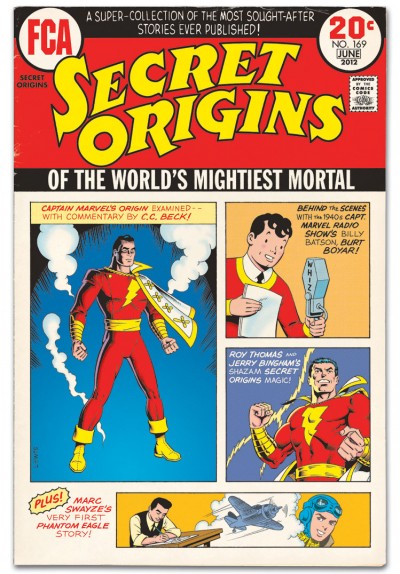 Final­ly I get to show off the last of those two items I teased back in Decem­ber. I gave a fur­ther peek at it here. It's anoth­er cov­er done for FCA, which appears in the back of Roy Thomas' Alter Ego mag­a­zine. This one was obvi­ous­ly done up to look like one of those issues of Secret Ori­gins that DC Comics pub­lished in the ear­ly '70s. I loved those as a kid, because back then they were one of the rare venues where you had an oppor­tu­ni­ty to see any of that gold­en age com­ic material.
I've talked in pre­vi­ous posts about how much I liked the gold­en age Super­man and Bat­man. But with­out a doubt, my favorite gold­en age char­ac­ter would have to be Cap­tain Mar­vel. When DC brought him back from pub­lish­ing lim­bo in the ear­ly '70s, I was already primed for it. I'd read about the "Big Red Cheese" in our local library's copy of All in Col­or for a Dime, as well as in The Ster­anko His­to­ry of Comics. Some­thing about the visu­al and the idea of the char­ac­ter hooked me, even with­out ever hav­ing seen a sin­gle Cap­tain Mar­vel sto­ry yet.
Not to dis­miss the sto­ries, but a huge part of the appeal of those gold­en age Cap­tain Mar­vel comics for me is the art. As the char­ac­ter's design­er and main artist, C.C. Beck set the tone there. Most gold­en age com­ic book artists doing super­heroes looked to the news­pa­per adven­ture strips for their inspi­ra­tion. They most­ly tend­ed to fall into one of two schools: it was either the illus­tra­tive real­ism of Fos­ter and Ray­mond, or the more impres­sion­is­tic approach of Sick­les and Can­iff. Instead, Beck looked to the "fun­ny" por­tion of the fun­ny pages for his inspi­ra­tion (like Jack Cole did with Plas­tic Man). The result was a strip that had a look and feel like no oth­er. And of course, the writ­ing played a role in mak­ing that pos­si­ble too.
While the high­er-ups at Faw­cett may have want­ed Bill Park­er and C.C. Beck to just give them a knock­off of Super­man, that was not what they got. They got some­thing bet­ter. Many read­ers back then must have thought so too; at the peak of the char­ac­ter's pop­u­lar­i­ty, they were pub­lish­ing Cap­tain Mar­vel Adven­tures bi-week­ly and sell­ing 1.3 mil­lion copies of each issue!
I know some­times mod­ern fans have trou­ble with Mr. Tawky Tawny and some of the more whim­si­cal aspects of the strip, but for me, the clas­sic Cap­tain Mar­vel mate­r­i­al is inspi­ra­tional stuff. I wish I could tell you of a rel­a­tive­ly cheap and easy way to lay hands on that work if you haven't seen it, but it seems hard­er to come by these days.