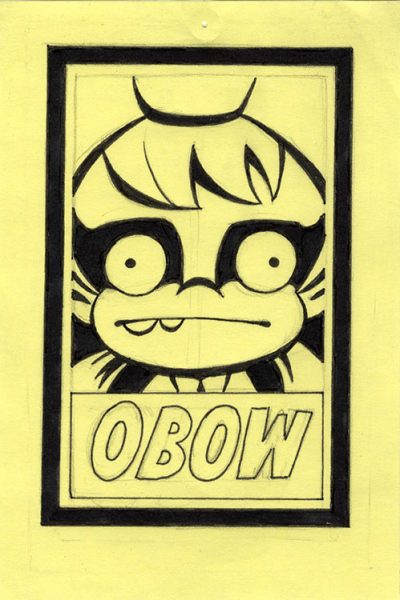 Wel­come back to my lit­tle countdown/celebration of the return of Har­vey Girls For­ev­er!, return­ing to Net­flix this Fri­day, May 10th!
Here's anoth­er Post-It draw­ing, done dur­ing a break on the show. As I men­tioned yes­ter­day, Post-It draw­ings like this are a fun way of tak­ing ideas that lodge them­selves in your brain and clear­ing them out by get­ting them on paper.
This time it's the Bow! The Bow was always some­thing of a crew favorite. I guess it was some­thing to do with the fact she's the type of per­son who march­es to her own beat, and does­n't care what any­one else thinks.
Reg­u­lar vis­i­tors to my site might recall that I've done a play on the OBEY stick­ers before, but the Bow sort of seemed to loan her­self to this too.
Thanks for tun­ing in! More to come tomorrow.