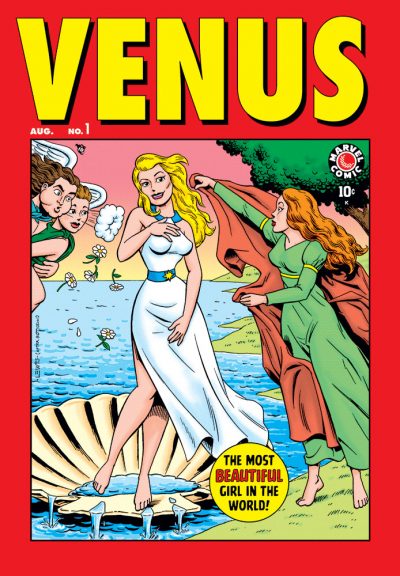 When you're a comics geek, and you've also had a few cours­es in Art His­to­ry, I sup­pose you're liable to occa­sion­al­ly come up with stuff like this.
Some of you know that before Mar­vel Comics set­tled on that name, the pub­lish­er went by a cou­ple oth­er names. They start­ed off as Time­ly, then lat­er changed to Atlas in the ear­ly '50s, before final­ly set­tling on Mar­vel in 1961 (Though as you can see from this image, they did briefly toy with using the name ear­li­er). While I know a bit about Time­ly's out­put dur­ing the War, I must admit that my aware­ness of their out­put post-WWII is very spot­ty. It's not like Mar­vel has often reprint­ed that material.
Once the War was over, gen­er­al read­er inter­est in super­heroes seemed to fade, and all comics pub­lish­ers were look­ing to find new mate­r­i­al that would cap­ture read­er inter­est (AKA sales). Venus appears to have been one of Time­ly's attempts at this. While I have not been able to actu­al­ly read any of these comics, when you look at the cov­ers, the title appears to suf­fer from some­thing of a mul­ti­ple per­son­al­i­ty dis­or­der. It's not quite sure exact­ly what it wants to be.
The book starts off look­ing like some sort of comedic romance title, then lat­er shifts into some kind of qua­si-hor­ror/mys­tery title. It was like they start­ed off with an idea, found the book was­n't quite sell­ing the way they'd hoped, so they tried tin­ker­ing and throw­ing dif­fer­ent things at the wall while still pub­lish­ing it, to see if some­thing else might stick.
Any­way, look­ing at the Venus cov­ers, I remem­bered Bot­ti­cel­li's "Birth of Venus" from my Art His­to­ry class­es, and it occurred to me that per­haps Time­ly had missed a bet by not hav­ing an artist do some sort of an homage to that paint­ing on a cov­er. So I thought maybe I'd rec­ti­fy that (70-some years lat­er), just for the heck of it. Maybe that was too "high brow" of an idea for them to both­er with. Maybe it still is, but I had to try it out (and get the idea out of my head). Hope you folks like it.