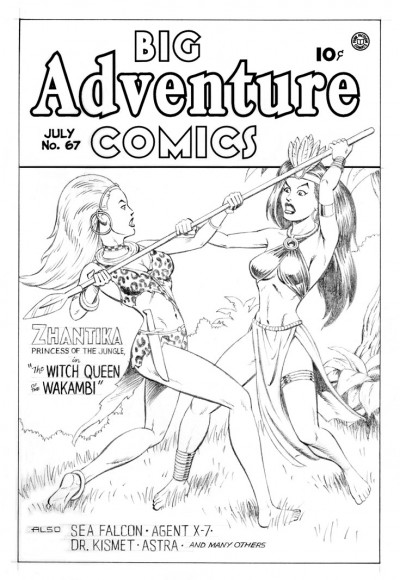 I still haven't had time to get back to figuring out how to install the gallery plugin (due to another project which will probably make its way on here eventually), but I wanted to keep the site active. So by request of my friend Lyle, I've posted the drawing on the left. It's a fake comic cover featuring a jungle girl character named Zhantika.
She's the blonde at left. Zhantika was a character created by Lyle and myself. Around that time, I'd gotten my hands on the Gerber Photo-Journal Guide to Comic Books. Looking through them, we both realized separately that the "jungle girl" comic was a real popular genre of its own at one point that sort of vanished. That sparked an idea. Lyle came up with the basic concept, and the visual was mine.
We actually published a Zhantika story in Big Bang #17, much thanks to Gary Carlson. I also have to thank inker David Zimmermann, who brought a really nice polish to my pencils with his brushwork. The above image is not from that story though; it was done as a faux golden age cover for one of "The Big Bang History of Comics" issues (#27, if anyone cares to look). It was part of a whole fictitious history of comics that didn't really exist, but it was lots of fun to pretend.
Maybe eventually one day I'll color this cover, just for fun. And just to make this a little longer: Zhantika is ™ and © Lyle Dodd and Mark Lewis.