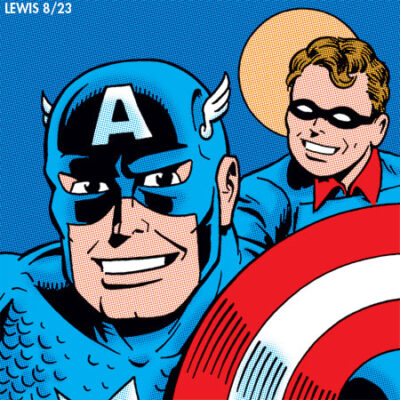 It's Day 26 of the Kir­by Art Trib­ute, suggested/sponsored by Howard Simp­son. You can find the work of those par­tic­i­pat­ing on your social media plat­form of choice by using the hash­tag #Kir­b­yArt­Trib­ut­es.
Today's prompt is Cap­tain Amer­i­ca and Bucky. Cre­at­ed by Joe Simon and Jack Kir­by for Time­ly (Mar­vel) back in the Gold­en Age, they had a huge hit on their hands. While Cap­tain Amer­i­ca and Bucky are most­ly thought of as being patri­ot­ic heroes who fought the Axis, I dis­cov­ered some­thing inter­est­ing on re-read­ing their ear­ly tales: with all the mon­sters etc. they went up against, Cap and Buck­y's sto­ries seem to be very much inspired by the "weird men­ace" pulp genre. If you think about it, the Red Skull and how they wrote him at that point would've fit in very well in a "weird men­ace" pulp sto­ry. Which is why I opt­ed to make this a night scene.
Joe and Jack only did the first ten issues of Cap­tain Amer­i­ca Comics, after which they left Time­ly. They believed that pub­lish­er Mar­tin Good­man was not liv­ing up to their prof­it-shar­ing agree­ment, so they jumped over to DC where they cre­at­ed a slew of char­ac­ters like Guardian and the News­boy Legion, the Boy Com­man­dos, and their ver­sions of Man­hunter and Sand­man.
Jack had two oth­er runs with Cap­tain Amer­i­ca. The sec­ond one was in the '60s, after Time­ly had turned into Mar­vel and "Stanand­Jack" was often treat­ed as if it was one word. That run had some­thing of a James Bond/secret agent feel, hav­ing Cap work­ing close­ly with Nick Fury and S.H.I.E.L.D. Jack­'s third run was when he returned to Mar­vel in the mid-'70s, and that was him work­ing solo that time.
An aside: Cap­tain Amer­i­ca was­n't Joe and Jack­'s only shot at a patri­ot­ic hero. In the '50s, they also did Fight­ing Amer­i­can and his side­kick, Speed­boy. An inter­est­ing aspect of that strip is that it start­ed off as a straight anti-com­mu­nist super­hero adven­ture, but then piv­ot­ed fair­ly rapid­ly into a very fun­ny super­hero satire, pre-dat­ing the camp craze of the '60s.
That's it for today. Feel free to pop by again tomorrow!